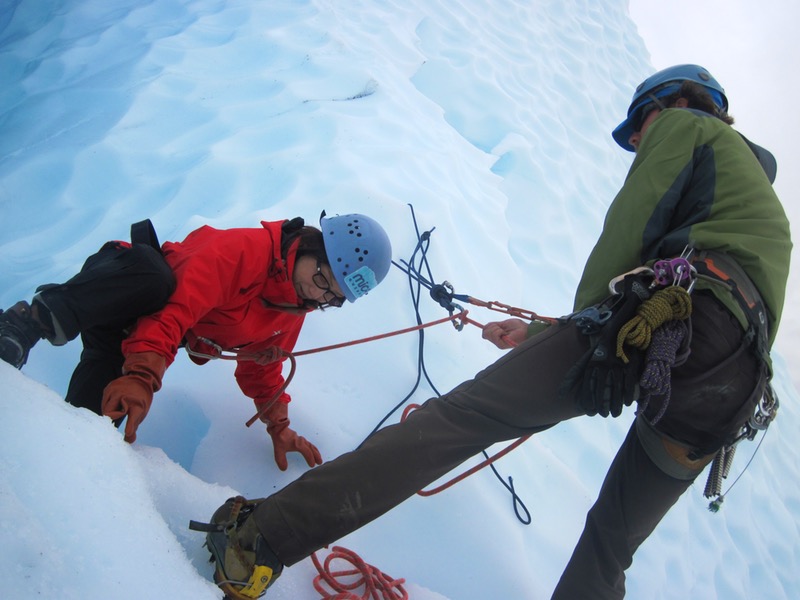 Full-Day Tour from Anchorage
Trip Highlights
4-5 hours of Matanuska Glacier trekking.

Guide narration of exciting glacial features and stunning views from a high point in the ice fall, and a closer look at crevasses and moulins using a rope and anchor system.

A faster-paced, smaller group than the Ice Fall Trek.

This activity does not include Ice Climbing.
About the Glacier and the Trek
Take your Matanuska Glacier experience to the next level. Go a little further and higher on the glacier and get up close to bottomless crevasses and the top of the ice fall. Your experienced guide will set up a rope and anchor system to allow you to safely explore some of the more technical features of the glacier and go beyond the Ice Fall.
Glacier hiking is for virtually everyone! With proper equipment and an experienced guide, explore the hidden treasures of the Matanuska Glacier. The Matanuska Glacier is one of the few Alaskan glaciers accessible by car. It is located 2 hours NE of Anchorage. With just a short hike, you can be standing on an enormous river of ice, exploring the natural wonders of the majestic glacier.
Glacier hiking is an all weather activity. However, when the weather is bad in and around Anchorage, it is often sunny on the glacier. This is due to a phenomena in which the cold air off the glacier forces the warm valley air upward and into the surrounding peaks causing a weather hole. So come to the sunny Matanuska Glacier for an unforgettable experience.
Matanuska Glacier Advanced Trek - 4 - 5 Full Hours on the Ice!
What You Need To Know
No experience is needed for this trip; however, you should be able to walk at a brisk pace and be comfortable scrambling over uneven terrain. Please note that this Matanuska Glacier tour does not include vertical ice climbing, though you may occasionally scramble up short ice walls. The Advanced Trek offers great photo opportunities and the chance to explore more of the glacier with a smaller group and one of our most experienced guides.
Length of this Hike: Approximately 4 - 5 hours.
What We Provide:
Mountaineering crampons

Helmet

Trekking pole
For the Advanced Trek we require you to have:
A small backpack with room for gear, if you don't have one we have some available for you to use!

Long Pants

Hiking boots that come over the back of your ankle, if you don't own a pair we have some available for your use!
Our recommendations on clothing and gear:
Quick dry clothing (not cotton) usually a good pair of hiking pants works great, ski pants and jackets are not necessary

Rain gear, even if it isn't raining

Liner gloves

Long synthetic or wool socks

Extra warm layers

Snacks and water

Sunscreen

Sunglasses

Camera
What NOT to bring:
Bear Spray

Fire Arms

Alcohol
(We have hiking boots available for you to borrow if needed.)
Prices subject to change without notice. Please inquire at time of booking. Prices are per person, includes round-trip transportation from the Anchorage area. We do not stop for lunch. Please bring heavy snacks and water with you. This tour returns to the Anchorage area between 5 - 6pm. This activity is guided by our partner MICA Guides.
Departs Anchorage area at 7:30am - Advanced Trek starts at 10:00am. You will return to Anchorage at around 7pm (May through September*)
Frequently Asked Questions
What is the weather like on the glacier?
The weather varies quite a lot around here. In general, it is about 5 - 10 degrees cooler down on the glacier. There is not an accurate forecast for the area, so don't worry about checking the weather ahead of time. The weather can and does change quickly so we recommend being prepared for both rain and shine.
What if it is raining on the day of my trip?
Our trips go out rain or sunshine. We ask that you come prepared with a rain jacket and possibly rain pants, for a comfortable experience on the glacier. If you do not have these items, we can provide you with our rain gear at no additional fee.
Are your trips safe?
There are inherent dangers on the glacier, and anything could happen out there. Our guides are highly experienced and trained to spot these dangers and manage risks appropriately.
How many people will be on our trip?
We try to keep the guest to guide ratio at 6 or 7 guests to 1 Guide. If there are more than 6 people in the group, we may send another guide on the trip.
Can I bring my camera out on the glacier?
Absolutely! There are many opportunities for photographs on all of our trips.
What should I wear for the Ice Fall Trek?
Quick dry or hiking pants and extra warm layers are suggested. You must wear long pants, no shorts. Even if it is not raining, we suggest bringing rain gear as the weather can change any time. Bring thick socks that come up over your ankle and your own hiking boots that come above your ankle. Also bring snacks, water and a small day-pack if you have one. Keep in mind that this hike will carry over lunch, so please make sure you bring snacks along. There will be an option to eat lunch after your hike at a nearby restaurant.
What if I don't have hiking boots?
If you are going on the Ice Fall Trek and don't have a pair of hiking boots which fit at orabove your ankle, we will lend you one of ours.
For Ice Climbing trips, we will lend you a pair of our ice climbing boots.
Do I have to pay extra if I borrow your boots or other gear?
No. All of the gear rentals are included in your trip price.
2019 Matanuska Glacier Advanced Trek
TOUR DATES: Daily Departures at 7:30am from the Downtown Anchorage Area (MAY 15 - SEPTEMBER, 10)*
TOUR COST: $370* per person. Minimum Age: 13. Please bring water & heavy snacks (this activity will carry over lunch) We return to Anchorage by 7pm. *Our Advanced Trek fee does not include the Glacier Park Access Fee. The current fee is $25 per person but is subject to change; we have no control over this access fee.*
ACTIVITY LEVEL: This is MODERATE/STRENUOUS activity: Guests should be able to walk 3-4 miles on uneven ground. The longest required walk is three to four miles round-trip over a rugged terrain. Tour participants must be able to walk this distance. To get the most out this experience, we recommend that you are in relatively in good physical shape.
CANCELLATION POLICY: A MasterCard or Visa is required to make your reservation online. Your card will be charged when you book your trip. We require at least 48 hours notice for cancellations otherwise a cancellation fee of 50% may be charged. No-shows or cancellations with less than 24 hours notice will not be eligible for a refund. Late arrivals that miss the departure will be considered a no-show. *Hike start/stop dates vary, please call us if you have questions.