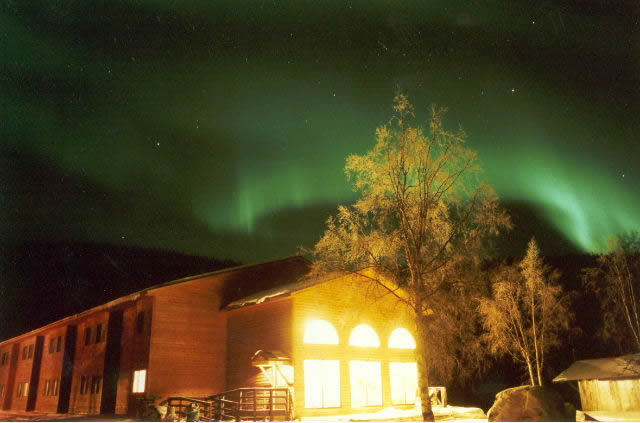 Alaska Northern Lights Winter Adventure Tour (7-Days)
Trip Highlights
Witness the magic of the Northern Lights as they dance across the sky.

View Ice Sculptures in Fairbanks.

Learn about dog sledding and mush your own team of dogs.

Enjoy a dog sled tour through the beautiful Alaskan wilderness.

Enjoy the thermal waters of Chena Hot Springs.
Northern Lights Adventure Itinerary - 7 Days
Visit Fairbanks Alaska, one of the best places on Earth for experiencing the beautiful and mysterious northern lights of Alaska. This location provides a terrific balance of occurrence, frequency and aurora activity. People from all over the world travel far and wide to Alaska to view the stunning and mystical Aurora Borealis and to participate in an exciting winter activities like dog sledding. Our Aurora Borealis / Northern Lights tour packages include all accommodations, activities listed, transportation & professional photographer/guide that will assist you in making sure that you capture the aurora with you camera!.
Day 1: SATURDAY: Arrival: Arrive in Anchorage and transfer to hotel via courtesy shuttle. The rest of the day is free to wander around and explore this pleasant city and its shops. The hotel is located only ten minutes from the downtown shopping area. The hotel also offers a health club, pool and whirlpool for your convenience to help you unwind from your long flight up to Alaska. Overnight in Anchorage.
Day 2: Talkeetna: Today, we travel north to Talkeetna, a classic Alaskan small town with lots of history and tales about mountaineers and bush pilots. You will arrive this afternoon in Talkeetna. Accommodations feature complete bathroom and shower facilities, kitchenette, dining area and living area. From here, you can gaze at the sunset or enjoy an evening coffee. In Talkeetna, you can take an optional scenic flight over the Alaska Range & Denali. This is considered to be the greatest flight on Earth! You'll talk about this flight forever! This magnificent flight takes you around Denali, the Sheldon Amphitheater, and the Great Gorge. Listen as your pilot describes the natural wonders of Denali National Park. This is an unsurpassed photo opportunity, so make sure you bring plenty of film for your camera. Overnight in Talkeetna. (L)
Day 3: Talkeetna: In Talkeetna, you will find unimaginable trails, powder-filled meadows, slopes, backcountry access via frozen rivers, bald mountain tops, and all manner of excellent and exciting snowmobile opportunities. Talkeetna and the surrounding area provides backcountry thrills and exhilarating landscapes to explore. Best of all, snowmobiles allow for the quickest and easiest access to distant locations, especially higher elevations, where one can look out over the world, relax with a hot drink, and marvel at the Alaska Range and surrounding Talkeetna Mountains. The snowmachine tour run along the Chulitna River bluff, or into the Petersville mountains, or up into the Talkeetna mountains to Bald Mountain. Tonight, go outside and scan the sky for the Northern Lights. Overnight in Talkeetna. (L)
Day 4: Talkeetna to Fairbanks: After breakfast we will journey north to Fairbanks to watch a splendid display of Northern Lights. Along the way, we will make stop for lunch and a visit to Denali National Park at the Murie Science and Learning Center. This evening, we will stay at a deluxe waterfront lodge overlooking the Chena River. The resort features spacious rooms with river view, steam room and sauna and a lobby filled with original Alaskan art, slate floor and a two story fireplace. This evening, we will go outside and scan the skies for the northern lights. Overnight in Fairbanks. (B)
Day 5: Fairbanks/Dog Sledding Tour: Today, we will go on a dog sledding tour. The tour begins by spending time meeting and getting to know the team of dogs that will take you into the frozen Alaskan wilderness. Challenge yourself to remember each of the dogs names, where each one plays an integral part of the team and you may make a new furry friend! You can experience hands on by helping your musher get the dogs ready for tour by harnessing and hooking your team up to the sled. Once on the trail, try your hand at mushing your very own team of Alaskan huskies or cocoon yourself in blankets and relax as your experienced musher guides your team through the mountains. Not only are the dogs incredible, but so too are the highly trained mushers. Ask your guide about the history, techniques, and subtleties of dogsledding – they are extremely knowledgeable and the close relationships between musher and dogs are especially engaging. Later tonight we will go outside once again and scan the skies for the northern lights. Overnight in Fairbanks. (B, L)
Day 6: Fairbanks/Chena Hot Springs: After breakfast, we will travel approximately 90 minutes outside Fairbanks to Chena Hot Springs. Chena Hot Springs offers an Alaskan winter experience and the healing waters of Chena Hot Springs has been compared to mineral waters found in hot springs famous all over Europe. Locals will tell you that one of the best experiences one can have is sitting in the tranquil environment of the Rock Lake at Chena Hot Springs is soaking, relaxing and revitalizing your spirit in the soothing mineral water! Later, we will visit the Ice Hotel, where you can enjoy a Martini in a genuine "ice glass" Overnight in Fairbanks. (B)

Last Day: Fairbanks Departure: We will enjoy breakfast together this morning and bid farewell to our trip leader and fellow travelers as we head our separate ways for the journey back home. (B)
Travel Information
ABOUT THIS TOUR: Adventure travel is exactly is as its name implies, an adventure! Although every attempt is made to adhere to these itineraries, participants need to acknowledge and willingly accept the unexpected route and itinerary changes due to factors beyond our control. About Aurora viewing and moon phases: we run our tours even when there is a full moon, a new moon and at all times in between. During a full moon the foreground is brighter, allowing you to capture the foreground. During a new moon, the sky is darker so the lights may appear slightly brighter. However, since we are in a place where the lights are so bright anyway, this makes very little difference in the quality of viewing. Aurora viewing is subject to weather conditions and solar activity and its not guaranteed. Some activities are subject to change when temperatures are below -30°F.
PHYSICAL REQUIREMENTS FOR THIS TOUR: (Moderate)
The Northern Lights Adventure Tour does not require a high degree of physical fitness. However, we will be exposed to extremely cold weather, often experiencing temperatures well below freezing, which in itself can be physically challenging. We may also have to walk in deep snow. Most nights we will stay up past midnight to look for the northern lights, which typically appear later in the evening.
WHAT IS INCLUDED & WHAT YOU NEED TO KNOW: Transportation, lodging, transfers and baggage handling and meals as indicated on the itinerary. All rates are per person in U.S. dollars based on shared occupancy. Single supplement is $975 for this tour. Tour does not include Alaska taxes, air transportation to and from Anchorage or any optional tours, liquor, items of personal nature or purchases made on-board the vessels. Winter clothing rental is available at Chena Hot Springs Resort. Toasty warm outdoor pants, parka and "bunny" boots are available for a fee. (see below) Airfare to Fairbanks and from Anchorage, and the optional flight-seeing trip around the Alaska Range & Denali are not included.
TRAVEL INSURANCE: We strongly suggest purchasing trip cancellation/interruption insurance to protect your travel investment at the time you sign up for one of our trips. This coverage will offset cancellation charges in the event of illness before or during your trip. Trip cancellation/interruption and baggage insurance is available at a supplemental cost. Click Here to purchase travel protection.
WINTER GEAR RENTAL: Anyone visiting Alaska in the winter time should bring a warm hat, gloves, neck scarf, and a heavy coat. Layering is the best way to keep warm in Alaska. A light weight thermal with a fleece and a loose fitting jacket is recommended. Please refer to our "What to Wear Winter Guide" by clicking the link below. In Anchorage, 6th Avenue Outfitters rents insulated snow type pants, parkas with hoods, and boots. We do not guarantee availability or sizing. There are no reservations on garments and it is first come-first serve. Please call 6th Avenue Outfitters for availability.
2019 Tour Dates
TOUR DATES: Saturday, February 9, 16 & 23 March 9 & 16
TOUR COST: From $3,995 per person/double occupancy.
B= Breakfast L=Lunch D=Dinner
Optional Tour Activities