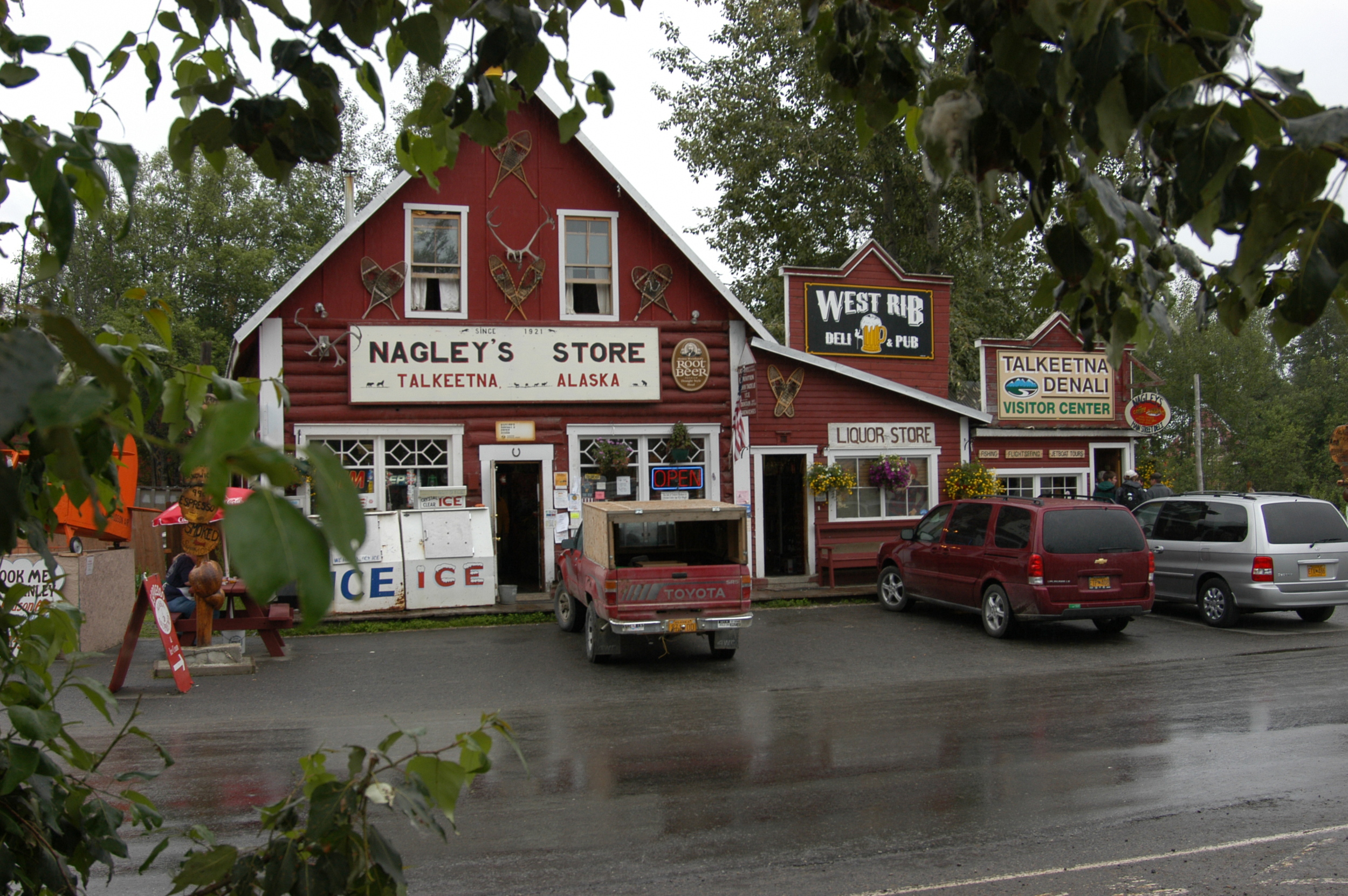 11-Day Ultimate Alaskan Adventure
Trip Highlights
Tour the stunning seacoast teeming with marine wildlife in the Kenai Fjords National Park.

Visit the town of Talkeetna and spend time to explore the splendors of Denali.

Learn about the Iditarod Race and mushing basics combined with the exhilaration of a sleddog ride.

Visit Denali National Park & travel 90 miles to the end of the Park Road.

See Wonder Lake
THE ALASKA DISCOVERY TOUR ITINERARY - 11 DAYS
Day 1: Anchorage: Arrive in Anchorage and transfer to the hotel via courtesy shuttle. The rest of the day is free to wander around and explore this pleasant city and its shops. The hotel is located only ten minutes from the downtown shopping area. The hotel also offers a health club, pool and whirlpool for your convenience to help you unwind from your long flight up to Alaska.
Day 2: Day in Anchorage: Today we will visit the Alaska Native Heritage Center and listen to fascinating stories about Alaska's native cultures and get an insightful perspective into traditional native ways of life. Later, we will have lunch overlooking Cook Inlet and explore Anchorage.
Day 3: Anchorage to Seward: At 9 a.m. you will meet your guide and your fellow travelers in the lobby of your hotel. We will have a pre-trip meeting before heading out. After our meeting we will board our comfortable van and travel south along the edge of the Turnagain Arm on the Seward Parkway. This road is considered to be America's most beautiful and scenic road, crossing mountain passes and majestic valleys. Along the way we will try to spot moose, eagles and other wildlife. On our way we will make a couple of stops for photo opportunities at Beluga Point and the Alaska Wildlife Conservation Center. We will then continue south down the mountainous Kenai Peninsula towards Seward. We will arrive in Seward by mid afternoon. Seward is located just 5 minutes from many activities including Exit Glacier and the Harding Icefield. Exit Glacier is the only glacier in the Kenai Fjords National Park that it is accessible by foot. During the afternoon we will have the opportunity to look at this beautiful glacier. Overnight in Seward (L)
Day 4: Kenai Fjords National Park: At 11:30 a.m. we will board a sightseeing vessel to explore the wonders of Resurrection Bay and Kenai Fjords National Park. Learn about and experience this glacially carved region known for its tidewater glaciers, spectacular scenery, steep cliffs, and rich waters abundant with wildlife. This nine and one half hour tour will explore the heart of Kenai Fjords National Park. The tour includes a visit to a tidewater glacier where we will search for marine wildlife including sea otters, puffins and many other bird species, steller sea lions, harbor seals and whales. During the second part of the tour, a deli style lunch will be served while the exploration continues! The evening will be spent in Seward. (L)
Day 5: Seward: After breakfast we will visit the Alaska Sea Life Center, a world class marine science facility. The center serves as a regional stranding center and it is equipped to rehabilitate sick, stranded and injured marine mammals and birds. Go nose-to-glass with many of the creatures you will only see from a distance on a cruise. This one of a kind research, rehabilitation and education facility lets you observe marine research as it's being conducted. Watch seabirds, sea lions and harbor seals in their naturalistic habitats. After lunch, we will visit Iditarod Champion Mitch Seavey's kennel, where your adventure begins with a 2-mile dog sled ride. Feel the power, excitement, and energy of our amazing sled dogs as they are harnessed to our comfortable wheeled sleds. Mush through the Alaska wilderness to the base of Resurrection Mountain and along Box Canyon Creek. Your guide will explain how we train and steer the dogs, and tell stories from the trail. Upon return to the kennel, tour our beautiful kennel facilities, laugh as a guest is dressed up as an Iditarod musher and cuddle adorable husky puppies. Our guides offer a delightfully humorous, behind-the-scenes look at the Seavey family's training for the most demanding race on earth. Later this afternoon we travel back to Anchorage. We will arrive in Anchorage at around 6 pm. Overnight in Anchorage.
Day 6: Anchorage to Talkeetna: After breakfast, we will begin our journey north. Along the way, we will stop at the Alaska Native Heritage Center, and listen to fascinating stories about Alaska's native cultures and get an insightful perspective into traditional native ways of life. Later, we continue north through the Chugach State Park to Talkeetna, a classic Alaskan small town with lots of history and tales about mountaineers and bush pilots. We will arrive this afternoon in Talkeetna. Head into town to visit this historical town and its local shops or sit back and relax the rest of the afternoon. You can take a stroll to the River taking in the views of the Alaska Range, including the highest mountain in North America, Denali. The sunsets from here are always spectacular. (L)
Day 7: Talkeetna: This morning you will have breakfast overlooking the great Alaska Range. After breakfast we will take an Alaska Wilderness Tour that offers a narrated tour of Historic Talkeetna and a rare opportunity to visit an original and remote Alaskan Homestead, 5 miles north of Talkeetna. In 1959 the DeVore family traded the comforts of their Michigan home for the harsh conditions of Alaskan homesteading. Dennis DeVore takes you back to yesterday on this fascinating and very unique tour of the "Old Family Homestead", accessible only by trail. During this "Talkeetna Alaskan Adventure", guests will enjoy a scenic ride driving their own ATV. You will view the original cabin and various implements and tools used, to learn how early day pioneers survived living in the wilderness of Alaska. Next, it is on to a lunch at Dennis' personal cabin on Wiggle Creek, on the back quarter of the homestead. After lunch you may choose to goldpan on Wiggle Creek, relax with a game of horseshoes, croquette, or berry picking (depending on the season). The fresh air, the silent serenity of the forest, and the murmur of Wiggle Creek takes you a million miles away. Weather permitting, you will have an excellent opportunity to capture photos of Denali and wildlife. This tour includes lunch. Later this afternoon you can take an optional scenic flight over the Alaska Range & Denali (see below). This is considered to be the greatest flight on Earth! You'll talk about this flight forever! This magnificent flight takes you around Denali, the Sheldon Amphitheater, the Great Gorge and finally land on the Ruth Glacier. Experience the excitement of standing among great peaks where the immense scale will astound you. Enjoy the sun, snow and the unique sounds of the glacier. Listen as your pilot describes the natural wonders of Denali National Park. This is an unsurpassed photo opportunity, so make sure you bring plenty of film for your camera. (L)
Day 8: Talkeetna to Denali National Park: After breakfast, we will begin our journey north as we continue traveling through the Chugach State Park to Denali National Park. Weather permitting, we will enjoy views of the Alaska Range, including the highest mountain in North America, Denali. After lunch we will board the National Park bus for a 95-mile trip through Denali National Park's prime wildlife habitat. Most park visitors limit their visit and stay near the developed and crowded Denali park entrance. The more adventurous take one of the grandest drives on earth and stay inside the park. Winding through the Alaska Range, deep into the heart of the Denali park, the "Park Road" offers opportunities to see Denali's famed wildlife: Grizzlies, Caribou, Moose, Dall Sheep, Wolves, and Eagles. And, should the weather smile upon you, above all of it towers Denali itself, the highest point in North America (20,310 feet). At the very end of the Denali Park road, past Wonder Lake, you'll find a unique enclave in the park known as Kantishna. Please note that early or late season travel can be affected by snow conditions on the Denali park Road and this could change lodging location of this tour. We will stay in Kantishna tonight. (S, D)
Day 9: Denali National Park: Today you have a full-day of leisure. Try your luck at gold panning, go on a bike ride or choose from several guided hikes through the tundra offered and guided by the Kantishna Roadhouse staff. There will options if the mountain is out, to take the KRH shuttle to Wonder Lake for photo opportunities. Later this evening, join us on the upper level of the Roadhouse for this evenings presentation. Overnight in Kantishna*. (B,L,D)
Day 10: Denali to Anchorage: We will enjoy breakfast together this morning and later board the bus back to the Denali Park entrance. There will also be optional flightseeing trips back to the park's entrance if you prefer not to ride the bus back. At 12:40 you will board the Alaska Railroad for a scenic ride back to Anchorage. You will arrive in Anchorage by 8pm. Overnight in Anchorage. (B)
Day 11: Depart Anchorage.
TRAVEL INFORMATION
ABOUT THIS TOUR: Adventure travel is exactly is as its name implies, an adventure! Although every attempt is made to adhere to these itineraries, participants need to acknowledge and willingly accept the unexpected route and itinerary changes due to factors beyond our control. This tour operates from late May though mid-September. Please call about available dates as Denali Park Road can affect the tour dates early or late in the season. Please keep in mind that due to Alaska's extreme and fast climate changes, we cannot guarantee a glacier landing on our Talkeetna portion of this trip.

WHAT IS INCLUDED & WHAT YOU NEED TO KNOW : Transportation, lodging, transfers and baggage handling and meals as indicated on the itinerary. All rates are per person in U.S. dollars based on shared occupancy. Single supplement is $975 for this tour. Tour does not include Alaska taxes, air transportation to and from Anchorage or any optional tours, liquor, items of personal nature or purchases made on board the vessels. Wildlife sightings are not guaranteed.
ACTIVITY LEVEL: EASY: Guests should be able to walk short distances on uneven ground. Trails surfaces vary from paved to uneven natural terrain. Tour participants must be able to walk a short distance and be able to get in/out of the tour vehicle with minimal assistance. Any optional hikes taken on this tour will change the difficulty level of this tour. Our optional hikes vary from easy to strenuous.
TRAVEL INSURANCE: We strongly suggest purchasing trip cancellation/interruption insurance to protect your travel investment at the time you sign up for one of our trips. This coverage will offset cancellation charges in the event of illness before or during your trip. Trip cancellation/interruption and baggage insurance is available at a supplemental cost. Click Here to purchase travel protection.
GRATUITIES: Planet Earth Adventure's tour leaders, staff and drivers and service providers are all paid salaries for their work. They will go out of their way to make your trip special and do not perform their jobs just for money. However, they do accept gratuities should you determine that they performed their jobs at an outstanding level. Gratuities should reflect your satisfaction with their level of service.
CANCELLATION POLICY: We consider the deposit non-refundable at the time of reservation; however, Planet Earth Adventures will try to be flexible in the event of a cancellation. Please read our cancellation policy thoroughly. A credit card is required to make your reservation online. Your card will be charged when you book your trip. We require at least 90-day written notice for cancellations. Wildlife sighting is not guaranteed.
2019 TOUR DATES, COST AND OPTIONAL ACTIVITIES
TOUR DATES: Weekly Departures May - September Please Note: *Denali Park Road conditions can affect tour dates during early or late season.
TOUR COST: $5,895 per person/double occupancy
B= Breakfast L=Lunch D=Dinner
CUSTOMIZE YOUR TOUR WITH THESE OPTIONAL ACTIVITIES: